Yesterday I looked at Wade Davis and concluded, inter alia, that he was due to hit a rough patch.  Unfortunately, that didn't happen last night and it was Burnett who suffered at the hands of the Rays.  Davis and his Garland-esque ERA-FIP discrepancy will face the music later, I suppose.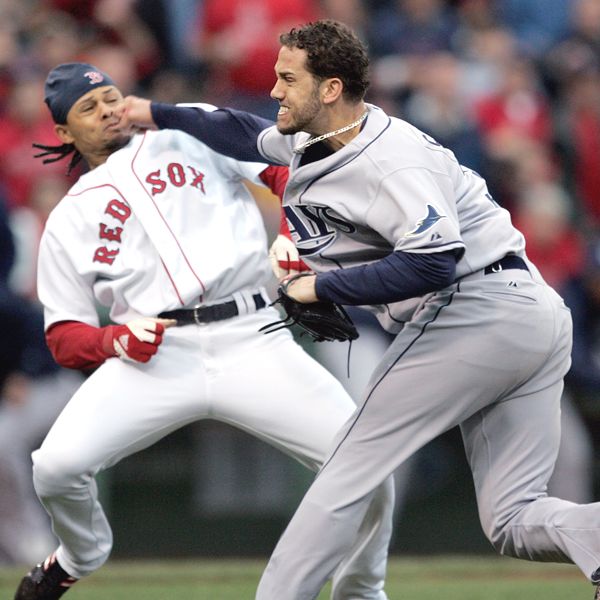 Tonight the Yankees will throw Andy Pettitte against James Shields in the final game of this two-game series.  Unfortunately for the Yankees, Shields has been one of the better pitchers in the American League so far in 2010.  With an ERA of 3.00 over 54 innings, he has proven to be every bit the ace the Rays were hoping they had when they dealt away Scott Kazmir last year.  The most notable thing about him this year is the increase in his strikeout rate.  Striking out 59 batters over 54 innings, Shields has a K/9 of 9.83, good for 7th best in the major leagues.  However, these totals are padded by a few outings against advantageous lineups.  In his first four outings, he faced Baltimore, Boston, the Yankees and the White Sox and struck out 6, 5, 7, and 3 batters, respectively.  Since then, Shields has faced Oakland and Seattle in successive turns and struck out 12, 10, 6 and 10.  While the strikeout numbers are impressive, they may be more representative of the quality of the Athletics and the #6org's respective lineups. It's doubtful that he will be able to continue putting up similar totals against better lineups throughout the year.  Accompanying this increase in strikeouts has been a decrease in his walk rate, from 2.13 to 1.83, leaving him with a K/BB ratio of 5.36.  Again, it remains to be seen if he can keep pitching like Halladay against superior lineups.
Shields' year has been something of a mixed bag when it comes to luck.  On one hand, his BABIP is .353, 44 points higher than his career average.  While this seems unlucky at first glance, his line drive rate is actually up 4%, from  20.5% in 2009 to 24.%, which may account for the increase in BABIP.  At the same time, his strand rate is 83.3%, a solid 10 percentage points higher than his career average, which may suggest that he's had a bit of luck in holding runners on base.  Working against him is his HR/FB%, which is up 3 percentage points in 2010.  This difference accounts for his xFIP of 2.94.  So, Shields has had bad luck on balls in play and his HR/FB%, but these are mitigated by the increase in the line drive rate and the advantageous strand rate.  As he faces tougher lineups, he may see his strikeouts regress back down to the 7.5 K/9 range and his ERA rise slightly.  Regardless, the Rays still have a top 10 AL starter in Shields.  K/BB ratios of 3.5 or higher don't grow on trees.
According to Texas Leaguers, Shields throws some six pitches: a four-seam and two-seam fastball, a cutter, a changeup, a curveball and a slider.  He alternates between his two-seamer and the four-seamer frequently, throwing them 24.6% and 22.7% of the time.  He uses the two-seamer to bear in on right-handed batters and tail away from left-handed batters.  Complementing these pitches is his cutter, thrown 12% of the time around 4 mph slower than his fastball combo.  His cutter has the opposite action of his two-seamer, tailing away from right-handed batters and bearing on left-handed batters.
Shields throws his changeup as frequently as his straight fastball (23.4%).  It's definitely his favorite offspeed pitch, and for good reason.  Since 2009, batters have swung at 58% of his changeups, more than any other pitch he throws, and have missed nearly 20% of the time, also a best for Shields.  When they aren't whiffing on it, batters are fouling it off 20% of the time and putting in play a mere 18% of the time.  In other words, his changeup is deceptive, hard to hit, and very good.  In fact, Fangraphs ranks it his most valuable pitch in 2009, worth 12.4 runs above average per 100 pitches.   Aside from the changeup, Shields mixes in a curveball around 10% of the time, a pitch which has gotten the second-most swings and misses percentage-wise since 2009.
In Shields, the Yankees will be facing a very hot pitcher with great control.  He has the ability to locate his fastball well and use his cutter and two-seamer to dart in or away from hitters.  He complements these with a very good changeup and respectable curveball to generate swings and misses.  The Yankees have have hit Shields very well throughout the course of his career, to the tune of .299/.347/.545.  They only faced him once 2009, roughing him up for 9 hits and 5 ER over 5.1 innings in a 11-4 Yankees victory.  Shields is a worse pitcher at night than in the day, and worse outdoors than in a dome, so hopefully the Yankees will be able to take advantage.  It's not much, if anything, but when Randy Winn is the starter left fielder, I'll take what I can get.
Oh, and please feel free to mock Michael Kay tonight when he refers to Shields as Big Game James.  It's a myth.