On Saturday, John Heyman reported that the Yankees are one of several teams interested in left hander Brian Fuentes. Does this make sense for the Yankees?
On the surface, I'm inclined to say yes. It would give the Yankees a third left hander, after Boone Logan and Pedro Feliciano, and would give them some insurance if Logan were to revert back to pre-demotion form when we all had this running through our heads when the lefty's name was called: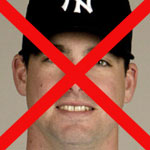 (H/T to RAB for the image)
But, as always with relievers, I'm going on the side of caution here. Let's jump into the numbers and see what we can find.
The first thing that pops out is in his batted ball profile. He's an extreme fly-ball guy, and the number has been climbing every year since 2007 (43.1%) and rose to a career high 58.5% in 2010. He manages to balance it with a good amount of strikeouts, but those fly balls could be an issue in Yankee Stadium. For his career, though, he has had a lower FB% (41.6) against left handed batters than he has against RHB (46.3%). I'd assume Fuentes would be facing mostly left handers, so maybe he could be bailed out a bit there. Speaking of splits, let's take a look.
Brian has a 30.31% strikeout rate against lefties and a 23.91 strikeout rate against righties. Those numbers are definitely encouraging, but the walk rate against righties is very high at 10.76% (7.66% against lefties). Though it wasn't a problem in earlier years, 2009 saw Fuentes' platoon split grow.
His OPS vs. LHB was stellar at .589, but against righties it was .786. In 2010, it stabilized a bit: .696 vs. RHB, .371 (!!) vs. LHB.
At the end of this brief analysis, I'd say Fuentes is probably worth taking a shot on, granted it's a one year deal for small money. Fuentes will have to realize that he probably won't get a shot to close. We may see him as the second lefty out of the pen to Feliciano, but he could prove more valuable than Pedro since he has had success against righty batters before. For one year, $2-4MM or so, I think Fuentes could be a good option.