This part 4 of 5 of TheYankeeU's preview of the 2010 American League Division Series.  Part 1 covered Francisco Liriano, part 2 looked at the rest of the Twins' rotation and part 3 examined the Twins' lineup
As our preview of the Twins rolls on, today we're looking at the three remaining components of the 2010 Minnesota Twins: their bullpen, bench and defense.  Beginning with the bullpen, it's obvious that the Twins have a very deep pen filled with solid options from both the left and the right side.  I've prepared a chart that graphs many important statistical components of each reliever: their IP in 2010, their strikeout and walk rates, their ERA, FIP and xFIP, their SIERA and WXRL, their groundball to flyball ratio, their splits versus same-handed batters and their splits against opposite-handed batters.  As an explanation, check out this post for more on SIERA and WXLR.

As you can see, the Twins have a very good bullpen.  Their closer is Matt Capps and is probably their best or second-best reliever. Capps isn't a strikeout-heavy reliever, but he does a good job limiting the walks and he gets a lot of ground balls.  Behind Capps is Rauch, who almost didn't make the ALDS roster due to a knee injury.  Rauch had fluid drained from his left knee and then received a cortisone shot, but has pronounced himself healthy and ready to go.  Since his injury is to his left knee though, the one bearing all his weight during his delivery, his effectiveness will be something to watch.  Rauch profiles a lot like Matt Capps, getting a decent amount of strikeouts, limiting the walks, and proving tough on right-handed hitters.  Another right-handed option for the Twins is Jesse Crain, who is probably a bit underrated reliever.  While Crain has a tendency to hand out more free passes than Rauch or Capps, he gets a good amount of strikeouts. The last right-handed option for the Twins is Matt Guerrier, he of the funky sidearm delivery.  Guerrier doesn't get many strikeouts at all, and his advanced stats suggest he should be a bit lower down on the totem pole for Gardenhire.  Regardless, he is tough on right-handed batters and isn't a bad option as the 4th right-handed reliever.
The Twins have two great choices from the left side.  First is Jose Mijares, whom you might remember from this glorious moment last year (the fun starts at 0:50, give it a watch, feel the chills and prepare yourself for more this October).  Mijares is very tough on lefties and can get strikeouts and limit the walks.  Used effectively, he is a good LOOGY option for the Twins.  The other left-hander is Brian Fuentes, whom the Twins picked up from the Angels this year. You might remember Fuentes from this glorious moment in the ALCS last year.  Fuentes is equally tough on lefties, and has the highest strikeout rate of any Twins' reliever.  Again, if he's used effectively and isn't brought in to face Alex Rodriguez Fuentes ought to be a fearsome weapon.  All in all, the Twins have a very deep bullpen with a lot of good options.  The one thing they don't have is a shutdown, dominant reliever option like the Yankees do with David Robertson, Kerry Wood and Mariano Rivera.  As Aaron Gleeman put it, the Yankees may have the advantage in the bullpen despite the Twins' superior depth:
In terms of top-to-bottom bullpen depth the Twins perhaps have an advantage, but teams can typically rely on just three or four relievers in the playoffs and New York's foursome of Rivera, Chamberlain, Wood, and Robertson is as good and overpowering as any in baseball.
Next up is the Twins' bench, which is comprised of five players in the 2010 ALDS:

There's not a whole lot to get excited about if you're a Twins fan. Nick Punto has been moved to an infield utility role thanks to the emergence of Danny Valencia at 3B. He plays 2B, SS and 3B and has good defensive scores throughout his entire career at those positions. He has decent enough speed, swiping a combined 31 bags in 2008 and 2009, which means the Twins may use him as a late-inning pinch-runner and defensive substitute.  The other infield option is Matt Tolbert, who has played all four infield positions in the last two years.  He's not as good as Punto defensively, and doesn't possess flashy speed, but is versatile.  I imagine that counts for something, but I'm not sure what.
Another bench option can play both the infield and the outfield: Alexi Casilla.  Casilla generally plays in the infield but can play CF in a pinch.  He generally does well on defense, and has decent enough speed.  He doesn't possess the speed of prospect CF Ben Revere though, meaning that the Twins' off-the-bench SB options aren't the strongest.  The other OF substitute is Jason Repko.  Repko's calling card is his ability to play all three outfield positions, and he's put up very good UZR scores in limited work in RF for the Twins this year.  As The Bat Shatters noted back in July, Repko is mostly a solid defensive option with decent wheels and is likely to be used as a late-inning defensive replacement for Kubel or Young.  The final bench option is backup catcher Drew Butera.  Butera is best known for being Carl Pavano's personal catcher, and could see a Game 2 start in this series.  If this happens, Mauer would be moved to DH and Jim Thome would be benched, a significant offensive downgrade for the Twins.  The only plus side to Butera is that he's known for having a decent enough arm, but this hardly makes up for his offensive futility.
All in all, the Twins' bench is adequate if unspectacular.  There seem to be two primary quibbles with the way it's constructed.  By not including Revere, the Twins don't really have a very good pinch-running option off the bench.  Secondly, Butera's bat is considered far worse than the other backup catcher Jose Morales.  Yet, since he's Pavano's battery-mate he may see some Game 2 action.  Yankees fans can only hope.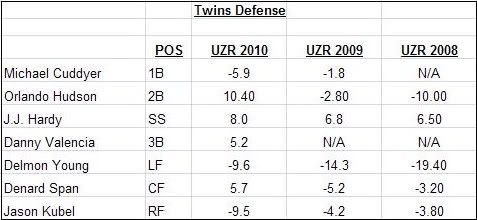 Finally, we look to the defensive scores of the Twins' position players.  By looking at the last three years' worth of data, it becomes possible to get a more accurate view of their defensive skill.  The Twins have several good defenders.  Hudson has long had a reputation for solid defensive work, and his UZR scores over the last three years indicate that he's at least average.  Hardy also has a good reputation, and his UZR scores agree.  In center field Denard Span grades out around average, meaning the Twins are solid up the middle defensively.  Finally, Valencia scores well in his first season of work.  The Twins infield, less Cuddyer, is solid defensively.
Unfortunately for Minnesota, they also have several position players with bad defensive reputations.  Cuddyer is primarily a right-fielder and is playing 1B only in the absence of Morneau.  It seems to show.  Delmon Young is simply horrific in the field, and Kubel is equally inept.  As Mike Axisa from River Ave Blues noted yesterday, Kubel has poor range and a bad arm.  Given the size of Target Field, this could be a real liability for the Twins in the ALDS.
This concludes the analysis of the Twins' bullpen, bench and defense.  Later today we will post an interview with Twins' blog The Bat Shatters, and then conclude with a final wrap-up and prediction post.