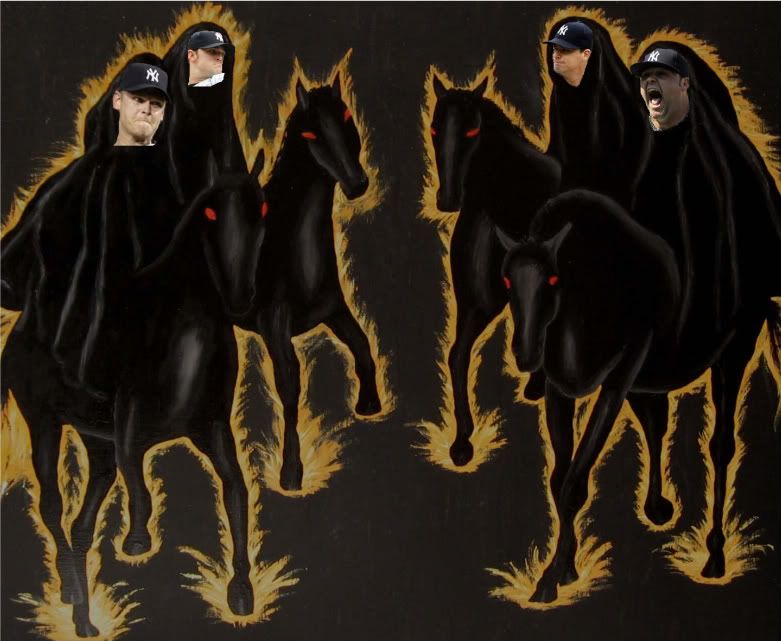 Much has been made recently of the relative struggles of the Yankee pitching staff.  Sure, it's nothing in comparison to what Texas is going through, but the Yankees are still waiting on Andy Pettitte to return from injury, for one of AJ Burnett or Javier Vazquez to find some semblance of form and earn the fourth spot in the rotation in the playoffs, and for Phil Hughes to right himself after recent struggles.  Additionally, both Damaso Marte and Alfredo Aceves are out for the year.  On the offensive side, the club is also battling through injuries.  Nick Swisher has a noticeable limp and a deep bone bruise in his knee, Austin Kearns has a bruised hand, Jorge Posada has concussion symptoms (but has been cleared to play, thankfully), and Francisco Cervelli has been diagnosed with an awful case of not being a very good baseball player and deserving to be demoted or at least rarely get playing time.
Yet perhaps lost in the shuffle is the excellence of the Yankee bullpen, a bullpen which is shaping up to be a formidable weapon in October.  With the acquisition of Kerry Wood, the Yankees now have four very solid pitchers able to close out games, not counting Mariano Rivera. Since the All-Star Break, here are their numbers:
Boone Logan, LHP: 16 innings, 0.55 ERA, 10 hits, 4 walks, 19 strikeouts.
Joba Chamberlain, RHP, 23.2 innings, 4.18 ERA, 22 hits, 7 walks, 22 strikeouts.
David Robertson, RHP, 21 innings, 1.25 ERA, 13 hits, 11 walks, 30 strikeouts.
Kerry Wood, RHP (since coming to the Yankees on 7/31): 16 innings, 0.54 ERA (1 earned run), 10 hits, 10 walks, 20 Ks.
Of these four, Yankee fans can be most happy about Boone Logan and Kerry Wood.  Both came to the team with huge question marks.  Logan throws hard but struggles with command.  Wood has been an incredibly successful pitcher at times, but can't stay healthy.  Yet both have performed about as well as anyone could have anticipated.
As a result, the Yankees have four legitimate set-up options for Joe Girardi to play with in the playoffs.  Better yet, there is currently no predetermined setup man.  This means that each reliever can be utilized as the situation demands, and that higher leverage situations will be handled by the appropriate reliever. There are some obvious usage patterns that have developed thus far, though. Logan's primary purpose is to retire left-handed batters, and he's performed superbly, holding them to a .188/.278/.219 line. Girardi also seems to prefer using Robertson when there are runners on base, possibly because Robertson's ability to get strikeouts is so incredible (10.91 K/9 in 2010).  Additionally, he seems to trust Wood more than Chamberlain at this point.  However, this hasn't meant that Chamberlain has been relegated permanently to the 7th inning, and Wood to the 8th.  Instead, he seems free to bring in Wood in higher leverage spots, whether it be the seventh or the eighth.  Often times, he will let Wood pitch the 8th as well, or go to Chamberlain for lower-leverage spots.  It could just be a small sample, but it does appear that Girardi favors Wood in the higher leverage spots, regardless of inning.  This is how a bullpen should be managed.
Despite the loss of Marte and Aceves and the relative struggle of the early-season 8th inning man, Joba Chamberlain, the Yankees' bullpen is in a good position headed into the playoffs.  They have four relievers peaking at the right time, and it will enable Girardi to have a shorter leash with some of the more unstable starters.  It's almost frightening, actually, like handing a 16 year old the keys to a Porsche and telling him to keep it under 90 mph.  Girardi has the tendency to play the matchups in the bullpen, and sometimes it blows up in his face.  But it's a good problem to have, really, and it could prove to be one of the Yankees' strongest weapons this playoff season.  And I haven't even mentioned the Greatest of All Time, #42.
For the record, yes, I did try to make the title as obnoxiously over-the-top as possible.  Feel free to use it and turn it into a meme.  Also, the Photoshop is courtesy of me.