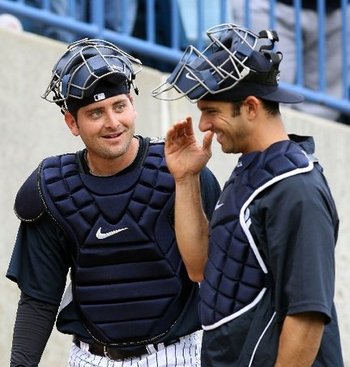 A recent piece in Joel Sherman's Hardball blog gives me a good jumping off point to discuss the Yankee catching situation in light of the recent 4 steal 9th inning. Joel is frustrating as a writer because his reporting can be so good, and his analysis ranges from thoughtful and insightful to just horrendous. This one unfortunately falls into the latter category. He writes:
Among potential AL playoff foes, the Rays already know how to exploit the speed issue, having stolen 22 bases in 23 tries against the Yankees this season. Tampa leads the majors in steals at 167. Texas is seventh at 117. You think of Minnesota as a running team, but the Twins have just 66 steals – 25th in the majors.
However, the Red Sox are 26th in the majors in steals with 59, and yet stole four bases in the ninth inning alone against the combo of Jorge Posada and Mariano Rivera. Posada actually looks as if he has a bit of the yips right now. His throw-out percentage for the season is just 16.3. And here is the scary thing for the Yankees: Among AL catchers who have started as often as Posada just one has a worse throw-out percentage: That would be Francisco Cervelli at 14.5. And Cervelli is the Yankees' "defensive" specialist.
First, it's worth noting that Francisco Cervelli threw out 43% as recently as last year. If memory serves, he didn't have his right shoulder rebuilt by Dr James Andrews in the off season. Let's try to apply some common sense here. Do you think Cervelli's massive drop off in CS% might have something to do with who he's catching?
Posada has caught Andy Pettitte in 10 of his 20 starts, who has a long standing reputation for having one of the best pick off moves in Baseball. That means most baserunners won't even attempt to steal, and those who do will stay closer to first base, reduces their chances of stealing successfully. Andy's also left handed, which sort of helps for what I hope are obvious reasons. Jorge has also caught 20 of CC Sabathia's 35 starts, another lefty whose power arsenal makes it less likely runners will attempt a steal. Base runners typically look to run in breaking ball counts, and CC features his fastball and slider 83% of the time.
By contrast, Cervelli has been AJ Burnett's personal catcher, logging 23 of his 33 starts behind the dish. When Burnett is on the mound, opponents have stolen 36 bases this year, which is the highest of any pitcher in all of Baseball. AJ has also logged 15 wild pitches (#2 in AL) and hit 16 batters (1st in AL) to go with his 75 Walks (7th in AL). When a pitcher is that wild, it makes it that much harder for the catcher to catch and throw to 2B. Another interesting note is that Posada has caught Phil Hughes in 21 of his 29 starts this year, meaning that Jorge is pretty much Phil's personal catcher. Hughes has had enormous Run Support this year, enjoying 6+ runs of scoring in a whopping 16 of his 29 starts. Managers generally don't send runners when facing a big deficit. You don't attempt to steal bases when you're down big, base runners are too valuable to risk and the last thing you want to do is a kill a rally.
As you can see, much more goes into CS% than simply looking at the raw numbers. Factors like this are why CS% tends to vary so much from year to year, as it has with  Cervelli. Francisco has been given the much harder task, so comparing his rate with Posada's  is apples and oranges.