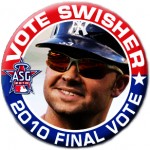 You guys probably know by now, but in case you didn't, everyone's favorite right fielder Nick Swisher needs our help in sending him to the All-Star Game. Nick is on the "Final Vote" ballot on the American League side and we can vote all we want until Thursday. I urge you all to vote as many times as humanly possible (damn sites that block bot voting!) and send Swish to the All-Star game!
Why? Well, aside from being a seemingly laid back and fun guy, Nick's having one hell of a year.
He's got a career high .381 wOBA to go along with a career high 139 wRC+ and career high .504 SLG. That wOBA is the second highest among American League right fielders and he's had the third most wRAA among all right fielders. For the traditionalists out there, he's second among AL RFs in HRs (behind Jose Bautista) with 13 and third among the position with 47 RBI.
All in all, Nick Swisher is having a great year and we should reward him for it with a trip to Anaheim. Vote Early! Vote Often! VOTE SWISH!
P.S.
While you're at it, vote for Joey Votto in the National League. He's leading all NL 1Bs in wRC, wRAA, wOBA, and WAR. The fact that he didn't make it on his own is a baseball travesty.