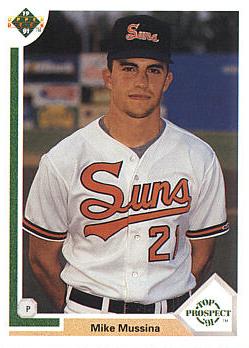 This one should be fairly simple, right? As with my Blyleven post , I'm sure I'll be preaching to the choir, but Mike Mussina should be in the Hall of Fame when his time comes. But, of course, there will be doubters out there. So, I will preemptively make the case for the Mooooooooooose.
If this seems repetitive, it is. I made these two posts comparing Mussina and Glavine back in January. Mike Mussina >>> Tom Glavine.
Anyway, here's the quick run down:
–24th all time with 74.8 WAR (4.12 WAR per season)
–123 ERA+ while spending his whole career in the hard hitting A.L. East
–1.192 WHIP
–3.58 K/BB
–3.57 FIP
–270 Wins (Yeah, yeah but the voters like it)
–.638 WP (see above)
–Passes Grey Ink, HOF Monitor/Standards tests
Anyway, Mike Mussina was a damn good pitcher for a long time and he did it all in the toughest of the tough environments: the AL (B)East during the "steroid era". He pitched at a very high level for a very long time. And if Tom Glavine is going to get in–300 wins makes him a lock–Mike Mussina had better get in.