It's always tricky to engage in a player's Hall of Fame merits when he's still playing if his case is not slam-dunk in either the positive or negative direction. Such is true of Yankee backstop, Jorge Posada. At first thought, most may not make the leap to say Posada is worthy of enshrinement in the baseball Hall of Fame, mostly because his numbers are solid, not gaudy. However, like most things in terms of baseball analysis, this requires a closer inspection.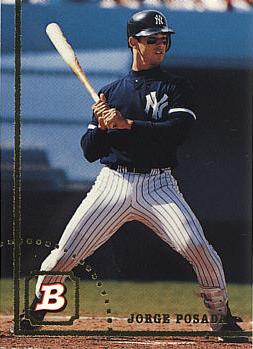 Since making his debut as a defensive replacement back in 1995, Jorge leads all catchers in a number of categories including at bats, hits, doubles, home runs, runs batted in, total bases, and walks. This is partially because most catchers don't last fifteen years in the majors, but it's also a testament to Jorge's consistency (Copyright: Joe Morgan).
In a season of at least 200 plate appearances, Posada has just once put up an OPS+ of under 100 (91 in 1999, career 124). Likewise, he's never put up a wRC+ of less than 100 with the same qualifications, except in 1999 (96). This is getting repetitive, but he's also never had a wOBA below .340 except in 1999. So, despite some shaky defense and lead feet, Jorge has managed to stay behind the plate for a long time and put up some excellent offensive numbers.
That's just the general case, now let's look at some more specific numbers.
Against the other HOF Catchers, Jorge beats five of them in OPS+ and six of them in WAR per season (3.05 for Jorge, which sells him short a bit since that number includes 2010 as a season, though it is incomplete and puts him at only 1.3 WAR) and in terms of raw WAR, Posada bests 19 current Hall of Fame players.
Always on teams with star-studded lineups, Posada has flown somewhat under the radar during his career, but that fact doesn't make Jorge's career any less impressive. A 124 OPS+, a .371 wOBA, a 128 wRC+, and a .204 IsoP across fifteen years would be great for a player at any position. That Jorge has put up those numbers at catcher makes him look quite remarkable. Five years after Posada retires, he should wind up with a plaque in Cooperstown, New York.