1. Randy Winn.  When Curtis Granderson returns from the disabled list next weekend, the Yankees will in all probability option Kevin Russo back to AAA Scranton.  In turn, Gardner will move to left field and Randy Winn will reclaim his rightful seat on the bench.  Here's hoping he stays there.  In 68 plate appearances so far, Winn is hitting .203/.288/.284 with 1 home run, 8 RBIs and 1 stolen base.  His OPS+ is 59.  His wOBA is .267.  He's known for being a decent defender in the outfield, and can play all outfield positions (theoretically, anyway), but tonight his defense cost the Yankees a run when he misplayed a fly ball from Angel Pagan which was charitably classified as a double.  Randy Winn isn't an everyday player, and he's only gotten so much playing time because of the injuries to Curtis Granderson and Nick Swisher, but it's hard to imagine an uglier set of 68 plate appearances to kick off the year.
It seems mean-spirited to hate on the backup outfielder.  He is probably a very nice guy with a very nice family, and I'm sure he's trying his best to help the team win.  He might even be excited to play on the Yankees, the World Series champion Yankees, in the hopes of winning a title after toiling in obscurity for the Tampa Bay Devil Rays, the Mariners, and most recently the Giants.  It's almost enough to make me feel sorry for him; it's certainly enough to blunt the edge of my disdain for his recent play and hope that he can turn it around soon.  But Randy, could you meet us halfway?  An OBP above .300 would be a nice start.
2.  Mark Teixeira.  Last night was a bad, bad, very bad game for Teixeira, as he went 0-4 with 3Ks and a walk.  The walk came in the first inning, and he flew out in the third.  In the sixth, he struck out on three pitches, all looking, to lead off the inning.  Gameday had them right on the outer edge of the strikezone.  The second came an inning later, when the Yankees were down 4-1 with runners on second and third with one out.  Facing Mejia, he struck out on seven pitches, the last of which was a tailing 97 mph fastball out of the zone.  He saved his last strikeout for the top of the ninth against KRod.
On the season, Teixeira is hitting .209/.287/.387.  It's one thing to have a slow start in April, but we're now a little more than a week away from June.  Objectively, all the peripherals suggest a rebound is coming.  His BABIP is low but his line drive rate is perfect; his HR/FB ratio is lower than it has ever been; and his strikeout and walk rates are slightly elevated, but nothing too abnormal.  Objectively, Teixeira is unlucky.  Subjectively, he looks like he swings at bad pitches and he looks like he can't turn around on a fastball.  Neither of these things are true and Teixeira will come back.  Until then, it's one frustrating at-bat after the other.
3. Home plate umpire Todd Tichenor.  That first pitch looked like a strike to you?  Really?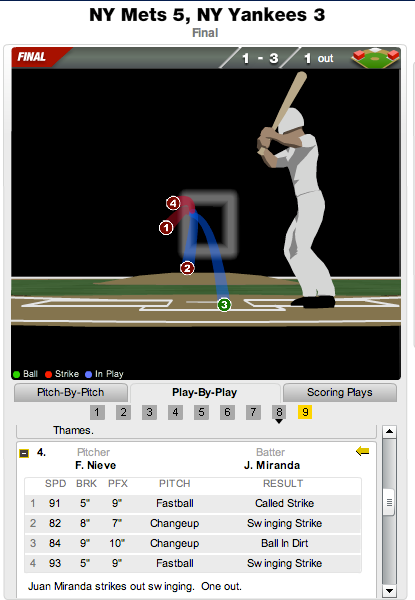 Like Randy Winn, I'm sure the umpire is a very nice fellow with a genuine desire to do a good job.  He also avoided the self-promoting, preening nonsense that we often see from some umpires like Angel Hernandez.  But it's really frustrating to see an umpire be that inconsistent with the strike zone.  This was most assuredly not the reason the Yankees lost, and I have no doubt that we got favorable calls as well. Complaining about the umpires sounds like the worst kind of sore loser, and for that reason I'm loathe to even mention it.  But when the umpire calls that first pitch a ball, he changes the entire at-bat.  Now Miranda is forced to expand the zone on the fourth pitch and swing at a ball out of his reach, because the umpire had incorrectly called it a strike the first time around.  There is something to be said for having a human element to umpiring, I think, but when an umpire misses by that much I start to want robot umps.  Maybe we can even dress the robots up to look real, and teach them how to stare players and managers down in taunting and threatening manners.  At least they'll be consistent with a strike zone.
The best part about baseball is that they play it almost every day.  We'll get them tonight and light up that Empire State Building in its proper colors.