After last night's win, the Yankees' record now stands at 26-16, a total of 42 games.  25% of the season is over, which makes me a sad panda.  Other analysts and pundits are handing out awards, and some teams are already talking about the playoffs, so I put together a review of my own, analyzing all 30 teams as if MLB were a giant 5×5 Fantasy Baseball Roto League.  Yes, baseball is now officially played on spreadsheets.  All stats are prior to last night's results, and we'll start with offense.
We see that the Yankees come in first place with a grand total of 139 points, with a maximum possible score of 150.  They lead the league in Runs, RBI and Batting Average.  It's not surprising that the Yankees excel in Runs and RBI, as they are a function of on-base percentage and slugging percentage, both strengths of the Yankees.  In fact, there's room for more upside in these categories as they get Swisher, Posada and Granderson back to full health, and as Teixeira and Rodriguez fully hit their strides.  The Yankees rank 26th in Home Runs, despite a relative dearth from Teixeira, and 23rd in Stolen Bases, thanks to one very speedy Brett Gardner.  Other notable entries on the offensive side are the Seattle Mariners,
aka #6org
, who rank second to last in Runs, HR, RBI and AVG.  They do however score a 25 in SB, so kudos to them!  If only it translated into some runs!  In last place are the very very woeful Astros, who have a combined score of 13.  They rank last in every category except SB, where they come in ninth.  For the Astros, it's the worst of times…and
the worst of times
.
On the pitching side, we see the Rays dominate WHIP, ERA and W while scoring high in Ks and Saves.  Their staff this has been superb.  The Yankees score high in the same categories, and would certainly score much higher if not for the abysmal outings by Vazquez earlier in the year. The Yankees score very low in Ks, which is somewhat odd given that their staff features high strikeout guys like Sabathia, Burnett and Hughes.  Sabathia and Burnett's strikeout rates have been a bit below average thus far, but there's no reason as of yet to think that they won't bounce back. In last are the Indians, with an Astro-esque score of 20.  This particular format doesn't favor their pitching staff, which features several decent ERA-types with low strikeout totals.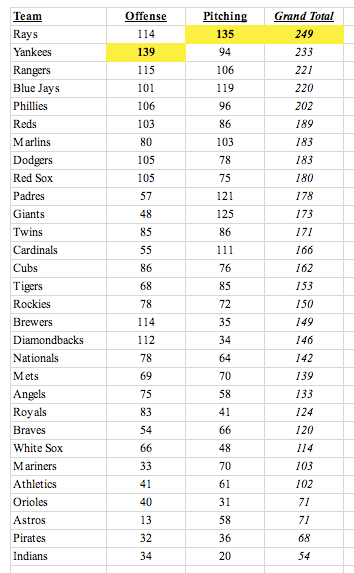 When you put it all together, the Rays come in first place with a total of 249 out of a possible 300.  The Rays have put together a very solid team in every aspect of the game and have more wins than anyone, so this is hardly surprising.  The Yankees come in second with a score of 233, which I think is appropriate.  Other notable entries are the Red Sox, who come in ninth place despite their struggles so far.  Finally, in last place are the woeful Indians, with 54 points.  It's hard not to feel bad for them, but at least they have a capable and intelligence front office, which is more than I can say for the 28th place Astros. This is really just a fun way to look at how teams are performing a quarter of the way through the year as we await tonight's game against the Mets.  It's hardly sabermetric, and I doubt we will see Baseball Prospectus imitate it any time soon.  What do you think, though?  Does anything in particularly interesting stand out to you?