With Nick Johnson headed to the disabled list, the Yankees must make do without their regular DH for some time. Just the other day, Moshe asked us and you what we'd do in case Johnson did go down. Now that the situation has actually arisen, let's take a look at the scenarios that Moshe posited through the lens of the Lineup Optimizer from Baseball Musings. For the OBPs/SLGs needed, I'm going to use the "Rest of Season" ZIPs projections found on each player's page at FanGraphs.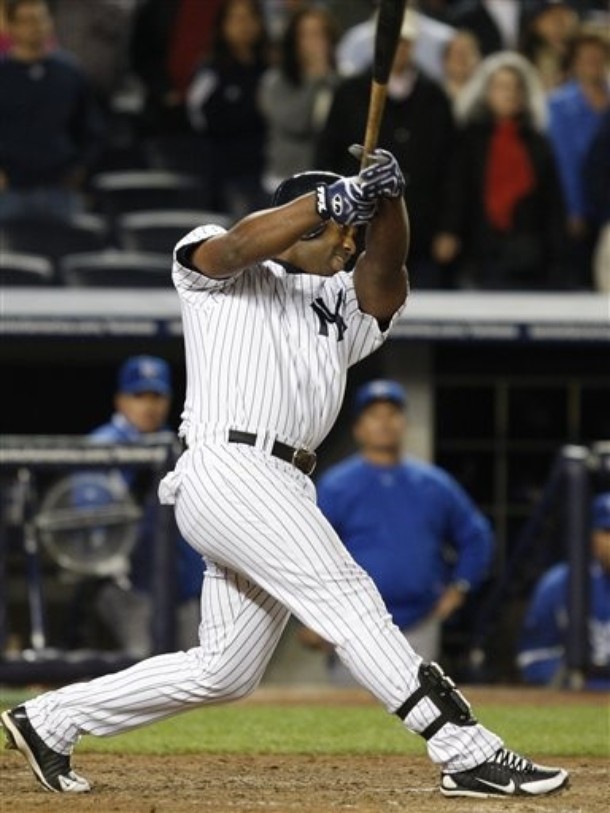 Behind door number one, we have the Juan Miranda / Marcus Thames option. In this option, Juan Miranda DHs against right handed pitchers and Marcus Thames DHs against left handed pitchers, with Jorge Posada catching. Let's see how this lineup would fare:
1. Jeter SS
2. Swisher RF
3. Teixeira 1B
4. Rodriguez 3B
5. Cano 2B
6. Posada C
7. Miranda DH
8. Winn LF
9. Gardner CF
Despite very bearish projections for Tex (.366/.492), Rodriguez (.382/.517), and Miranda (.317/.319), this lineup projects to score 5.372 runs per game. That would be about 870 runs over 162 games. That's not the incredible offense we expect out of the Yankees, but it's still good. Let's see how the left handed side of this one would do, replacing Miranda with Thames*.
*The caveat here is that the ZIPs are not broken down in terms of platoon splits, so I'm going to use Thames's career vs. LHP numbers. The same lineup, but with Thames in the seventh spot, would score 5.556 runs per game (900/162). Again, this has the same bearish projections for the aforementioned players and a very bullish (.337/.523 vs. LHP). This lineup would also be utilized against lefties in our door number two scenario. The versus righties lineup would be the "Moshe Plan" (he wrote that he liked it and I'm pretty sure he tweeted about it the other day) which would include Francisco Cervelli catching against righties, with Jorge DHing.
I'm not a huge fan of this plan because I don't think Cervelli will keep up his hot start and hit enough to justify a spot in the lineup and it also forces the Yankees to carry a third catcher, an option not many of us like. It also makes the lineup a lot more "National League" looking, with Winn, Cervelli, and Gardner rounding out the final three spots.
Still, it projects to score more runs than the first option I presented (5.398/game, 875/162). It's also worth noting that this lineup really optimizes the defense as well as the offense. Winn is definitely a better fielder than Thames in left and Cervelli is strong behind the plate. If he can match his ROS projection (.335/.397) and continue playing great defense, the Yankees should be fine in Nick Johnson's absence.
So, going by the projected numbers, it seems Moshe is right. Using a catcher/DH platoon appears advantageous for the Yankees. We must also remember that the lineup will likely get even stronger when Curtis Granderson returns from his injury. When he comes off of the disabled list, Randy Winn and his weakening bat will return to the bench, Gardner will stay in the lineup and move to left, and Grandy will slide back into center. Moving forward, the Yankees seem to be in good shape even with an injury to their designated hitter.
P.S.
It's the one year anniversary of my college graduation. Woo!