CC Sabathia had a rather subpar outing Thursday afternoon in Detroit against the Tigers. On an overcast and rainy afternoon, he lasted 6 innings, giving up nine hits and six earned runs, walking none and striking out four. Pitchers have bad outings, and Sabathia's 2010 numbers aren't exactly mediocre – 47.1 IP, 3.04 ERA (4.16 FIP), 34 Ks and 16 BB. What went wrong on Thursday afternoon? Let's take a look at his Pitch F(x) data, courtesy of Brooks Baseball.  We can't exactly blame the velocity:
Here we see that Sabathia's fastball averaged 93.72 and maxed out at 95. These numbers are largely in line with his past norms. Sabathia also maintained his velocity well as the game progressed, even into the sixth inning when he gave up his three final runs. There may be a culprit, though, in Sabathia's release point.  Here is his release point from Thursday, May 13th:
Now compare this to his release points on his rain-shortened outing against Boston on May 8th (4.2 IP, 4H, 3ER, 2BB, 4Ks):
And his solid start against Baltimore on May 3rd (8 IP, 6H, 1ER, 2Ks).
It can be difficult to discern the difference, so I created an animated GIF that may make it easier: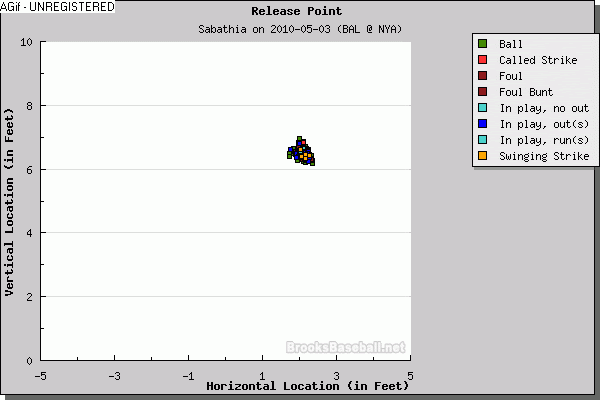 Again, here are the respective stat lines for each outing:
5/3: 8IP, 6H, 1ER, 2BB, 2K
5/8: 4.2IP, 4H, 3ER, 2BB, 4K
5/13: 6IP, 9H, 6ER, 0BB, 4K
On May 3rd, which was his best outing of the three, Sabathia's release point is clustered higher and more closely to the vertical axis. On the 8th, he stays close to the vertical axis like on the 3rd, but drops the release point a few inches. Then on the 13th, his worst outing of the three, his release point is further to the right and lower.
For comparative purposes, I also created a gif with his outings from 4/10 and 4/16.  Both of those outings were stellar.  I also included his bad start from Thursday the 13th.
Here were the respective stat lines for those outings:
4/10: 7.2, 1H, 0ER, 2BB, 5K
4/16: 6 IP, 3H, 1ER, 0BB, 9K
5/13: 6 IP, 9H, 6ER, 0BB, 5K
Here we see that in his outing against Tampa Bay he featured a release point more similar to his outing on 5/3 in terms of horizontal location, if it a bit lower.  On 4/16, his release point is slightly higher, but also slightly further to the right.  Then on 5/13, we see a lower release point further to the right.
Ideally, I'd like to take every outing from this year and create one giant .gif file with all the release points with the stat lines superimposed over the image at the bottom for reference.  Alas though, I am merely working with some free .gif software right now, software which limits me to three images.
That said, it seems to me that Sabathia has better results when he features a higher vertical release point and/or a release point closer to the horizontal axis.  I say and/or because he seems capable of having decent outings with a release point slightly lower and "closer" or higher and "further out".  The one thing that does seem obvious, though, is that he struggles when his release point is lower and further out.  Unless he's shifting on the rubber from outing to outing, it would seem that featuring a lower arm angle in the bad outings.  Ostensibly, this would result in less downward plane on his pitches, and it would also enable batters to see his pitches sooner and thus get a better read on what's coming.  Regardless, it does seem that CC struggles a bit more when his release point is lower and further out, despite being able to generate good velocity on his pitches.  Perhaps this is what it means when pitchers say they are "out of whack" mechanically. It's certainly something worth checking on as the year progresses.