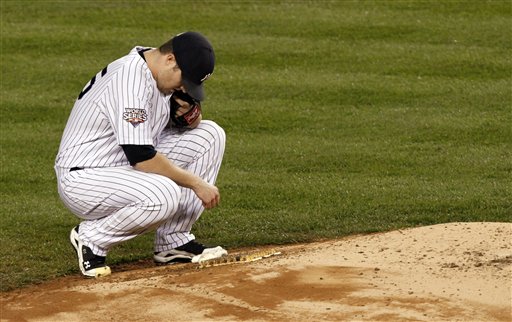 Last night, Phil Hughes earned a win in his first start of 2010. It was a good start in the end, but not great. He allowed just two runs and three hits in five innings, but he also allowed five walks. Phil was able to dance around danger, it would seem, by striking out six. I say "it would seem" because I was unable to watch most of tonight's game. I had class from 4-6 PM, then had to go to work (anyone have a high schooler who needs SAT tutoring?) from 6:30-8:30. The only bit I saw of Hughes was the sixth inning, when he gave way to David Robertson (we all like him again now, right?). So, after the game ended, I hopped onto Brooks Baseball's PitchFX section to see how Phil fared.
The first thing I looked for was how many times he threw his change up and how often it was a strike. This is the pitch, conventional wisdom says, that is crucial for Hughes' success. His fastball has been generally good, and so has his curveball. The lack of an third offspeed pitch, though, is what could hurt Hughes. So, he came into spring training working on his change up and it was apparently pretty good. Last night, Hughes threw just five of them, all against lefty batters.
As we would expect for a right-handed pitcher, Hughes kept all of his change ups to the lefties away. Unfortunately, only one of those pitches landed in the strike zone and he got zero swings and misses on the pitch. I can't complain too much, though. After all, he's just getting a feel for it and it was his first start. And, encouragingly enough, his change up's average velocity last night was 83.24 MPH, 8.840 MPH lower than his fastball velocity. If a pitcher can get his change to be 8-10 MPH lower than his fastball, it's likely to be a successful pitch.
In terms of his other pitchers, Hughes threw 88 fastballs (cutters and two-seamers, possible mislabeled pitches, included) and fifteen curveballs. On his four-seamers, Hughes got 31 strikes, five swinging; on the curveballs, seven strikes, one swinging; on cutters, 22 strikes, three swinging; on the two-seamers, 5 strikes, two swinging.
Looking at the strikezone plot by pitch, we can see a few things for each pitch:
1. Phil did a very good job of keep the curve ball (pink squares) low in the zone.
2. His cutters and four seamers tended to be a little too far up in the zone. The former seemed to be too much to the center as well. If Phil wants to have future success, those pitches are going to have to move to the corners or get down in the zone.
3. The two-seamers, which were probably cutters that were mislabeled by the non-perfect PitchFX system, were in good spots up in the zone. They were tight on the corner, which wouldn't allow righties to extend their arms and wouldn't allow lefties to reach them with much authority.
Lastly, I want to focus on Hughes' release point. Obviously, a release point is an important for a pitcher. When he has a consistent release point, it means everything looks the same coming out of his hand and he's generally not tipping his pitches. Last night, Phil featured a very tight release point and if that continues, he'll be successful. Bringing this thing full circle, if Hughes has a release point on his change up that matches the one on his fastball, the change up will mature very quickly. That, along with a good difference in velocity, makes for a good combination.