Hey all. How are we on this Thursday afternoon? Please excuse the relatively abbreviated post today, but I had to hand in a big paper yesterday, but was unable to because of a car breakdown. Awesome. Anyway, let's keep this mini-series rolling and turn the proverbial spotlight to the Left Coast and look at AL West players we should check up on during the 2010 season.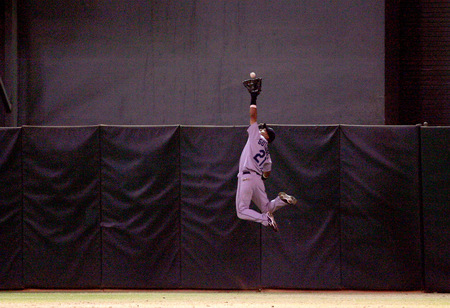 Starting, as usual, with the division winner (Angels), I'm gonna pick Scott Kazmir. Kazmir started off poorly with Tampa in 2009, pitching to a 5.92 ERA with a 1.541 WHIP and a pedestrian 1.82 K/BB. Something clicked for Kazmir when he got to the Angels, though. His ERA dropped below 2 (1.73) and his WHIP improved to 1.046, and his K/BB went up to 2.60. After a few seasons of numbers tailing the wrong way, late 2009 was great for Scott. We'll see if he can keep it up out there in L.A. or if his slide towards mediocrity will continue.
Texas Ranger RF Nelson Cruz burst onto the scene in 2009, making the All Star Team and ending the year with an .856 OPS and 33 homers. I pick Cruz because he is a late bloomer and it will be interesting to see if he can pull a Jayson Werth and become a big time player in his late 20's. Like many on his team, Cruz hit worse on the road than at home, though his road IsoP (.246) was still impressive. Due to his age, it's unlikely that we'll see much improvement from Nelson, but even if he stays at his 2009 levels, he'll be a valuable player for the Rangers.
The Mariners plan to win this season by pitching and defense. The best defensive player they have is CF Franklin Gutierrez. This guy is just unreal in CF. When the Yankees played the M's, I didn't get excited about any ball hit towards center field because I knew he'd track it down. The metrics (UZR, that is) back this up: his UZR/150 in CF in '09 was a ridiculous 27.1; his raw UZR was 29.1. Long story short, Gutierrez is epic on defense. His bat caught up a bit last year as he posted a 104 OPS+. So long as he hits at a league average pace and plays defense like he can, he'll continue to post 4-5 WAR seasons. That glove is mighty valuable.
Lastly, we come to the Oakland A's. Billy Beane's boys took the biggest risk/reward ticket this offseason: Ben Sheets. When healthy, Sheets is a top-of-the-league pitcher and will certainly help the A's young rotation (also watch for Brett Anderson to improve this year) learn a thing or two. Of course, he'll likely add a few wins to the register as well…if he can stay on the field. If not, then the A's have a sunken cost and the risk/reward move will not pay off. However, this is the A's and Billy Beane we're talking about. If he finds his team out of competition by the break, he could spin Sheets for something valuable. if they're in contention, Sheets will likely have been a big part of that. While health is always the key factor with pitchers, it's even more magnified with Sheets.