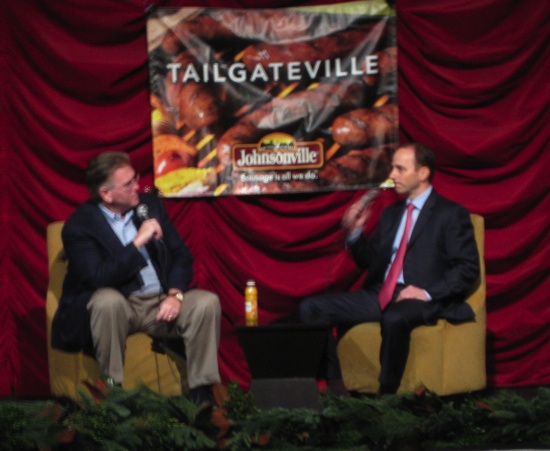 Yesterday morning, I attended the 'WFAN Breakfast with a Champion' featuring Brian Cashman at the Hard Rock Cafe in Times Square. Joe Pawlikowski of River Ave Blues joined me, and I'm sure some of our readers have already seen his recap over there. If not, here's a link. He goes into depth on some items I'm going to only touch on briefly, so to get a more complete idea of what Brian said about his plans for this off season, you'll probably want to read both recaps.
It's somewhat an exclusive event. They only sell a few hundred tickets to the general public and the Yankees don't allow WFAN to record the event on video or audio, so that the interviewee can feel more comfortable being as open and honest as he can with long form answers. This is made for Brian, who has a reputation for being a bit verbose in person, and he didn't disappoint one bit.
As Joe P reported, he opened up with the statement that "MLB needs a strong Yankee franchise". While the Yanks are certainly top dog in Baseball today, and have been for quite some time, it wasn't always the case.  Cashman recounted a story going back to 1996 when he was an assistant GM and the Yanks couldn't even find anyone to be his boss. Back then, George was still in his heyday and had just fired Buck Showalter (who he immediately tried to rehire) coming off an amazing late season push to land the first-ever American League Wild Card berth.  According to Brian, the GM job was offered to about half a dozen respected baseball men (who he named) and all of them turned it down. This embarrassed George, and he even hired Torre initially to be the GM, deciding a few days later to offer him the Manager's job when Bob Watson accepted the GM position.
Watson stepped down in Febuary of 1998, when Brian took over the helm. He said that his goal then was the same as it is now, to "run the Yanks like the Twins with our budget". He took full ownership of the 1998-2002 teams, but said that after the disappointing 2002 campaign George told him "We've done it your way for a long time, now were going to do it mine". This was the time when he said decisions were being made out of Tampa rather than New York, and the payroll exploded to unheard of before levels (2002-$125 mil/2005-$208 mil).  The results of course, are well known to Yankee fans. The cheaper teams won more, and Brian made it clear that's the place he's trying to get back to, saying he plans on lowering payroll this season as a step in that direction. He also made it clear he doesn't like the A-Rod contract. That's no surprise to anyone who followed that off season, but it raised an eyebrow to hear him be so direct about it, saying the length of the deal was something he would not have considered. It's just another example of something Hank Steinbrenner said after the A-Rod contract, that "Brian's more careful with our money than we are". The difference of course, is that after the transition from George to his sons  there was some early confusion about roles that resulted in the A-Rod deal (and the botched Santana negotiations). That's been sorted out, and Brian is back in charge of Baseball ops.
He told an interesting story on Jeter's defensive improvements. The defensive metrics had been saying for years that Derek was the worst Shortstop in Baseball in terms of range, and Brian had directed his infield coaches to work with him on it. The coaches kept reporting back to him that they addressed it with Derek, and he was taking steps to improve. But it wasn't showing up in his play, the numbers kept coming back the same, if not worse. So Brian decided to sit down and have dinner with Derek, and he asked him what he was going on. To Brian's surprise, Derek said this was the first time anyone had mentioned it to him. He added that 'you're my boss' and if he wanted him to do something to improve, he would. Apparently, the infield coaches were too intimidated to confront Derek on such a touchy subject. And that dovetails into what Joe P. discussed in his piece about 'changing the clubhouse culture' with the additions of Swisher, Burnett, CC and the various pie throwing antics that ensued. Brian felt it was needed to change the old guard culture that surrounded the team, and the Jeter defense incident only cemented the idea in his mind.
During the Q&A period, I asked Brian a question. I said "How does draft pick compensation affect your decision making on free agent relievers? I ask because last year there was the Juan Cruz situation where a sign and trade had to be worked out since no one wanted to give up picks for him." He went on a bit explaining how 'if there was a need on the team for a closer' or 'a specific need' on the team, he would consider it. But ended by saying "For a setup man? No." He earlier had praised Phil Hughes and Dave Robertson during the Joba debate, saying that Hughes "could have closed for all but 5 MLB teams last year" and Dave Robertson could have closed for a lesser number. Clearly, he prefers internal options when filling holes in the bullpen. So both I and Chris H were both at odds with him when we suggested signing Mike Gonzalez and/or Rafael Soriano. According to Brian, it's simply not happening.
Pic courtesy of River Ave