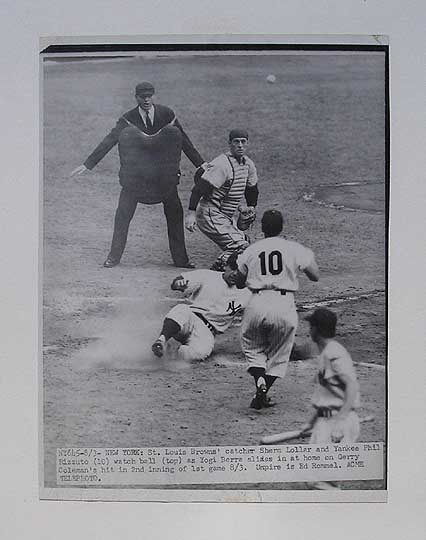 THE REAL YANKEE MAGIC NUMBER #10
I'll admit that I was a huge fan of the very fine Yankee blog River Ave Blues. Joe, Mike and Ben are all good guys, their writing is outstanding, their posts well thought out, and I considered them to be one of the finest, if not THE finest Yankee blog out there for both news and analysis.
But they have crossed a line of cannolis that I can not and will not ignore. They chose THIS photo for their Yankee magic #10. In what can only be interpreted as a clear swipe at the memory of the late, great Yankee SS and announcer Phil Rizzuto. Sure, the Chambliss HR is one of the great moments in Yankee history. It's actually the moment of conception of my own Yankee fandom. As an 7 year old boy I watched that Home Run live and the melee that ensued and was instantly intrigued about what on Earth could cause such a furor. Been a Yankee fan and Baseball fan ever since. But this is PHIL FUCKING RIZZUTO were talking about here. Did Chris Chambliss ever go on Channel 11 and wish an 82 year old woman a happy birthday? No. Did Chambliss ever eat sfogliatelle live on the air and try to call a HR with his mouth full? Never. Did Chambliss ever mistake a routine pop fly (caught by the 2nd Baseman on the outfield grass) as being a Homer off the bat? Huh? I bet Chambliss wasn't even scared of lightning, that son of a bitch.
I know what you're thinking. This is like Luxembourg taking on Hitler's Germany, and perhaps you're right. But some things are worth fighting for, and the memory of Phil screaming "Holy Cow!" and him falling on his ass the day he actually met one is worth it. Not only did he fall on his tush on the day he was honored, but he later described the cow as "putting a karate move" on him. John Sterling was recently quoted as saying that he learned everything he knows about broadcasting from Rizzuto, and . . well, OK skip that. But the Scooter is still beloved to this day in Yankee land, and I'm not going to sit back and let Phil be dissed like this.
What's next? When they get to Magic Number 2 will they go with Snuffy Stirnweiss? How about Bubbles Hargrave for #9? Blasphemy. Transgressions like this can not go unchallenged. If you don't stand up for the Scooter, then the terrorists win. You are either with us, or against us.
(BTW-I use the term 'us' loosely because Mo is probably going to kill me when he reads this post, and Chris is out of town.)